MASSAGED KALE SALAD
Remove the stalks of the kale. Rinse and dry well. Chop it up to bite sized pieces. (I prefer to chop it then put it in a salad spinner, fill it with water, drain, then spin).
Put it in a bowl with some good quality olive oil and sea salt. Massage it with your hands till it turns bright in color and softer.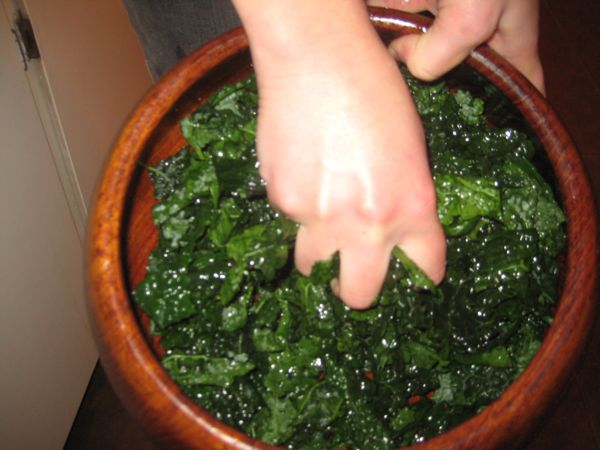 Put in a salad bowl and toss with apple cider vinegar, toasted pine nuts and golden raisins. You may add chopped raw apple too.
I've seen this recipe with currants or cranberries instead of golden raisins, and sunflower seeds or pepitas instead of pine nuts.
Here I used golden raisins and sunflower seeds.
Mix and match!
It's so easy and so darn good.

MASSAGED KALE SALAD with TAHINI DRESSING
1 bunch of curly green kale
grated carrots (optional)
roasted sunflower seeds
DRESSING:
1-2 T Tahini
1 T Braggs, Soy Sauce or Tahini
1-2 T rice wine vinegar
1 T sesame oil
1 clove garlic
1/2 tsp ground cumin
salt to taste
sprinkle of cayenne (optional)
DIRECTIONS:
Roast sunflower seeds in the oven at around 275 degrees for about 20 minutes (or until slightly browned)
Tear leaves off of stalks of kale into bite size pieces, put in a colander (or salad spinner) and wash/dry.
Put in a bowl with T olive oil and salt
Massage with hands till it turns bright green in color and softens a bit.
Blend dressing ingredients in a blender until pretty smooth then mix with greens (optional carrots) and sunflower seeds. Toss and serve.


For more kale recipes, check out: kale yeah!